---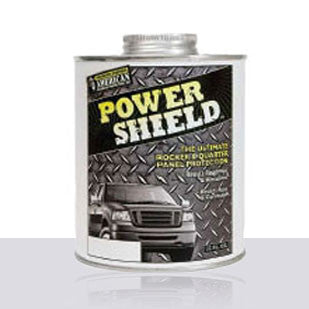 Power Shield - Rocker and Quarter Panel Protection
American Guardian Protection, Inc.
---
Power Shield protects rocker and quarter panels against road chipping, rust, abrasions and corrosion.  It's also excellent for trucks, wheel wells, engine compartments and undersides.  Power Shield is a blend of Hydrocarbon Resins and rubber, which gives a textured finish and resists chipping, abrasions, exterior rusting and weathering.  This coating provides excellent adhesion toughness, flexibility and durability.  The product dries in 30 minutes or less and is paintable, if desired,
• A textured finish
• Tack free at elevated temperatures
• One Step process which cures in half an hour
• Paintable, use any automotive paint
• Rubberized
• May be baked
• Salt spray  500 hours with no blistering or loss of adhesion
• Humidity 1000 hours no rusting or undercutting
To apply:  Clean surface and mask area if required.  Use a spray gun and apply a thick textured, even coat.  Allow 30 minutes to dry.  Paintable if desired, with any automotive pain after 30 minute drying period.  Shake well before using. 
Sold by the case
32 fl. oz can;12 cans/case